10 Best SERP Tracking Tools SEO Experts Suggest
To excel in SEO, it's crucial to have valuable data that sheds light on your performance.
Without it, you're left stumbling in the dark, unsure of which campaigns are effective and which are falling flat.
One of the most accessible and useful pieces of data is: "Where does my website rank in the search results for a given keyword?"
This job is best done by a SERP tracking tool. A SERP tracking software helps you identify all the keywords that your site is ranking for.
This article will assist you in identifying the best SERP tracker tool that best suits your specific needs, so you can make informed decisions and enhance your SEO strategy.
What is the best SERP tracking tool?
| Software | Free Trial/Plan | Starting Price/ month | Keyword Check | Competitor Check | Link Check |
| --- | --- | --- | --- | --- | --- |
| SE Ranking | ✅ 14 days | $39 | ✅ | ✅ | ✅ |
| Accuranker | ✅ 14 days | $129 | ✅ | ✅ | ❌ |
| SERPWacther by Mangools | ✅ 10 days | $49 | ✅ | ❌ | ✅ |
| Pro Rank Tracker | ✅ 30 days | $13.5 | ✅ | ❌ | ❌ |
| Semrush | ✅ 14 days | $119.95 | ✅ | ✅ | ✅ |
| SERPWoo | ❌ | $49.95 | ✅ | ✅ | ❌ |
| Wincher | ✅ 7 days | $39 | ✅ | ✅ | ❌ |
| Serpstat | ✅ 7 days | $69 | ✅ | ✅ | ✅ |
| Ahrefs | ❌ | $99 | ✅ | ✅ | ✅ |
1. AccuRanker
AccuRanker is a wonderful SERP tracking tool that gives you every bit of information about your keyword rankings and SERP features.
It is mostly used for enterprise SEO and by SEO agencies, meaning that it is a good fit for professionals.
As the name suggests, the results are highly accurate and frequently updated. Yes, all the SERP data for your website is updated every 24 hours and you can even demand an update whenever you want.
This makes it useful for professionals to frequently report to clients.
Apart from keyword rank tracking, it also tells you which SERP features (Featured snippets, People Also Ask, etc.) you already own.
Key features
Wide range of metrics available
Filter data in hundreds of ways
Monitor your competitors' rankings
See what all SERP features your website owns and which are the potential ones you could own
Integration with Google Search Console, Google Analytics, Adobe Analytics, Google Sheets, etc.
Daily and on-demand keyword data update
Pricing
Pricing starts at $129/month for tracking up to 1000 keywords. The price increases with the number of keywords you want to track.
The price starts at $116/month if you pay annually.
You also get a 14-day free trial
2. SE Ranking
SE Ranking is a top-notch SEO software preferred by agencies and businesses.
Notably, SE Ranking offers a more affordable option compared to major keyword rank tracking tools, making it an excellent choice for those on a tighter budget. It provides essential features like technical SEO audits, competitor research, and basic keyword research.
SE Ranking primarily focuses on tracking keyword rankings, backlinks, and other essential metrics for effective SEO management.
In fact, their pricing plans are based on the number of keywords you want to track.
Key features
Keyword Rank Tracking: Track your site's ranking for a given keyword with pinpoint accuracy across every major search engine
Prevent cannibalization: Identify pages competing for the same keyword and fix the issues
Dynamics: Learn how many keyword positions the site gained or lost
Traffic forecast: The amount of traffic a keyword can drive to your website
Backlink Monitoring: It checks your website's backlinks activity. It looks for any new backlinks you have earned or any lost or damaged backlinks you need to fix
Pricing
Essential: Starting $39 per month for 250 tracked keywords
Pro: Starting $89 per month for 1000 tracked keywords
Business: Starting $189 per month for 2500 tracked keywords
Save 20% with annual plans
It also offers a 14-day free trial
3. Pro Rank Tracker
Pro Rank Tracker claims to provide you with the most up-to-date, easy-to-analyze SEO ranking information on all your websites.
Trusted by over 60,000 agencies and enterprises, Pro Rank Tracker is also an apt choice for experienced hands that work at SEO agencies.
Features like White Label Reporting, and Automatic Report Scheduling make it the perfect tool for agencies who want to track the keyword rankings and SERP features for their clients.
The Insta-Check tool allows you to check rankings, regardless of the terms you track for the long term, on your ProRankTracker account.
The best thing is that it won't break the bank. The prices are highly competitive. But that doesn't mean affordability comes in the way of its functionality.
Key features
Multi-lingual reporting: Reports are available in 13 different languages
Frequent updates: Get daily updates plus on-demand updates
Track rankings on Google, Bing, Yahoo, YouTube, and Amazon
Local tracking in any country and any language
Track Google My Business listings anywhere in the world
Pricing
PRT claims it has unbeatable pricing in the entire industry without compromising the service quality.
Here are the pricing plans:
Starter plan: Starting $13.5 per month for 750 keywords
Pro plan: Starting $89 per month for 2500 keywords
Agency plan: Starting $180 per month for 20,000+ keywords
Free plan: Track 100 terms for 30 days with all premium features enabled, then 20 terms basic tracking per month (lifetime free)
You can save up to 20% if you decide to pay annually
4. Wincher
Wincher is another cost-effective SERP tracking software that helps online businesses scale up their SEO efforts.
This powerful tool helps you know which keywords you rank for and tells you what to do to improve your existing pages. It also helps you discover high-volume keywords you didn't know existed.
It also gives you an overview of your competitors' ranking data to help you gain a competitive edge.
Key features
Optimize your content for Search Engines
Get daily competitor ranking updates and get alerts when their ranking changes
White-labeled automated and manual reports
Invite an unlimited number of users to your account
Full API access for greater control over your data
Pricing
1. Starter plan: Starting $39 per month
2. Business Plan: Starting at $74/month for 1000 keywords
White-labeled reports and API access
3. Enterprise plan: Starting $289 per month for 5000 keywords
Everything in the Business plan plus external users and extra support
The prices increase with the number of keywords you want to track. If you decide to pay yearly, you get 2 months FREE.
It also offers a 7-day free trial.
5. Serpstat
Serpstat is a comprehensive search engine ranking tool that has evolved over time.
Originally focused on keyword research, it has now transformed into a versatile "growth hacking tool" with a wide range of features.
For its SERP and rank tracking, you can get to the nitty-gritty. It crawls the SERPs and tracks your keywords. It shows you historical data. You can access data by local search and device types.
All-in-all, it's very feature-rich and one of the best SERP tracker tools.
You can also see the distribution of traffic among you and your competitors for your keywords.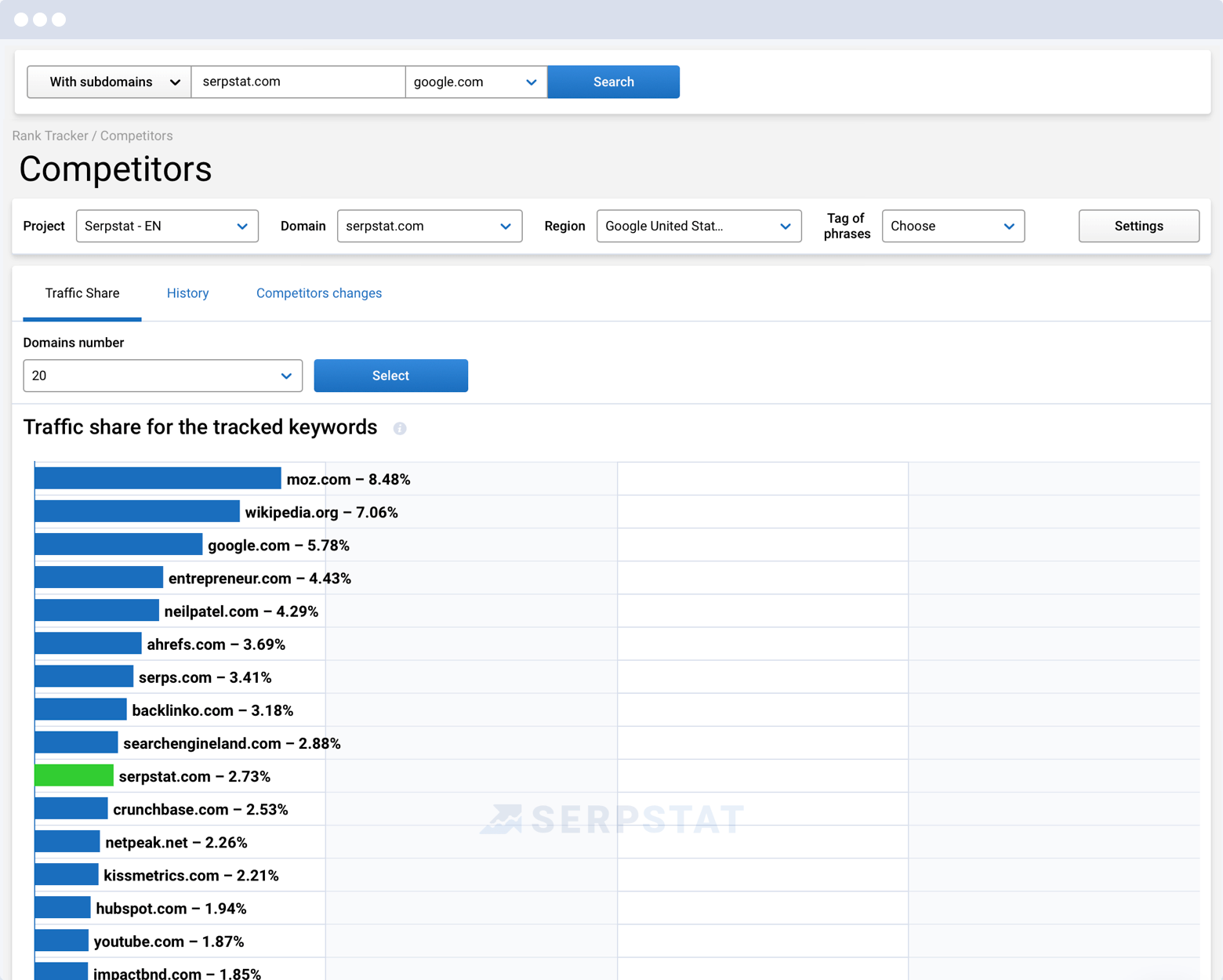 Key features
Competitor analysis in paid and organic search
In-depth keyword analysis
Batch analysis of keywords and domains
Pricing
Lite: $69 per month for 15000 position checks
Standard: $149 per month for 60000 position checks
Advanced: $ 299 per month for 150,000 position checks
Enterprise: $499 per month for 300,000 position checks
Save 20% with annual plans
6. SERPWoo
SERPWoo is a comprehensive SERP checker tool that allows you to monitor and analyze search engine results pages for valuable insights and competitive intelligence.
SERPWoo has a complex set of features. When you first access the dashboard, you might find it confusing but that is just a sign of a more comprehensive and all-rounder keyword tracking software.
But don't worry! Like any other tool, you will get used to its interface.
Apart from SERP tracking, it also lets you find useful keywords for your content strategy.
Key features
SERP Tracking: Monitor and track the search engine rankings for your targeted keywords across multiple search engines
Historical Data: Access historical SERP data to analyze trends, identify patterns, and understand ranking changes over time
Rank Notifications: Receive real-time notifications when your website or keywords experience significant rank changes
Customizable Dashboards: Create personalized dashboards with the metrics and data that matter most to you
Data Visualization: Visualize SERP data through intuitive graphs and charts for easier analysis and reporting
Pricing
Bronze: $49.95/month for 750 keywords tracked
Silver: $99.95/month for 2,000 keywords tracked
Gold: $199.95/month for 4,000 keywords
Platinum: $299.95 per month for 8,000 keywords
Silver, Gold, and Platinum plans also show mobile rankings and white-labeled dashboards
7. SEMrush
SEMrush is an all-in-one SEO toolkit that offers a comprehensive range of features designed to enhance your website's performance in search engine rankings.
From keyword research to competitor analysis, backlink building and analysis, technical SEO audit, and on-page SEO audit, SEMrush is the go-to software for website owners and e-commerce entrepreneurs seeking to optimize their online presence.
Apart from all these, the Position Tracking tool lets you monitor your keyword rankings on SERPs.
SEMrush Sensor is another feature of SEMrush gives you heads-up for any SERP algorithm changes so that you can take advantage of the situation.
Key features
Advertising Research: Uncover your competitor's ad budget for better campaign planning
Traffic Analytics: Gain insights into website performance, including organic traffic and keyword rankings
Site Audit: Conduct a comprehensive technical SEO audit to improve your website's health
Keyword Gap Tool: Identify competitor keywords that you're not ranking for
On-Page SEO Checker: Evaluate your content's SEO performance against top-ranking pages
Pricing
Pro plan (for newbies and small teams): $119.95 per month
Guru plan (for agencies and mid-sized businesses): $229.95 per month
Business (for large agencies and enterprises): $449.95 per month
You can also get a custom quote for your specific needs
If you pay annually, you can save up to 17%
8. SERPWatcher by Mangools
SERPWatcher is an extremely simple and straightforward tool for tracking your site's keywords. Its website says:
"SERPWatcher is a rank tracking tool that makes other complicated tools look like they're from the 80s 😛"
It shows your current keyword positions along with their search volumes to know the organic traffic potential of your website.
See the rankings of your website day by day and check them in the SERP previews. Besides that, it gives you a heads-up about all the important rank changes via email alerts.
Lets you track keywords in more than 50k locations including countries, cities, states, etc.
Mangools is a complete suite of SEO tools. Apart from the SERPWatcher, there is also the SERPChecker that will analyze search engine pages, with insights on the top pages and how to outrank them.
And the SERP Volatility Insights lets you know changes in SERP algorithms and take advantage.
Key features
Interactive report sharing with clients and teams
Track keywords in over 50k locations
Get email alerts for ranking changes
Monitor keyword rankings on all devices (desktop and mobile)
Organize keywords with tags
Pricing
Basic: $49 per month (200 keywords tracked daily)
Premium: $69 per month (700 keywords tracked daily)
Agency: $129 per month (1500 keywords tracked daily)
Save up to 35% with annual plans
48-hour money-back guarantee
It also offers a 10-day free trial
9. Ahrefs
Ahrefs is been in the SEO industry for over a decade now. It is one of the most popular SEO tools out there on the internet.
It is a complete SEO solution that covers everything related to search engine optimization. You do not need any other tool if you are using Ahrefs.
Ahrefs' Rank Tracker lets you monitor your Google rankings on desktop and mobile across 170 countries.
Set up is easy — just input or import a list of keywords, add multiple countries per keyword and provide your competitors' URLs.
Ahrefs will start tracking data and will send you regular updates.
Key features
The list won't end if I start listing all the features. So here are the features of the Rank Tracker:
Get ranking updates for desktop and mobile devices
Visibility: See what percentage of clicks from organic search traffic land on your website
Positions distribution: Track your ranking positions segmented via groups – Positions #1–3, Positions #4–10, Positions #11–50, and Positions #51–100
Check your SERP features performance
Sort your keyword list with filters & tags
Compare your data against the top 10 competitors on the basis of ranking progress, search traffic, and SERP features
Receive scheduled email reports
Pricing
Lite: $99 per month for small businesses and hobby projects
Standard: $199 per month for freelance SEOs and marketing consultants
Advanced: $399 per month for in-house marketing teams
Enterprise: $999 per month for agencies and enterprises
Savings and 2 months free if you pay annually
10. Google Search Console
Google Search Console is a treasure trove of valuable insights for optimizing your site's Google rankings.
Discover all the keywords your website ranks for, along with their average position in the search engine results pages (SERPs) and the impressions they receive.
GSC offers an incredible resource for identifying keywords to fuel your content strategy.
Here's how you can find and track the keywords your site is ranking for:
Go to the Performance tab and select search type as Web. You can select the date range and the metrics you would like to see such as Avg. position, Avg. CTR, Impressions, and Clicks.
Scroll down a little and you will find all the queries or keywords your site is ranking for with their average positions and impressions, and clicks.
You can even sort the data by specific pages, countries, devices, date ranges, etc.
The best thing about Google Search Console? It's completely free to use without any limitations. And talking of the accuracy of the data, what better tool than Google itself to track your Google rankings?
The only downside is that you can't use it to track your keywords for search engines other than Google.
Conclusion
Whether you're a blogger, running an agency, or an e-commerce entrepreneur, it's essential to take on the challenges of SEO and ensure your website ranks at the top to attract business.
To accomplish this, you need to stay informed about what's happening on the Search Engine Results Pages and understand how your site is performing for various keywords.
This knowledge will help you identify areas for improvement and determine when and where to enhance your website's performance.
The aforementioned compilation of top SERP tracking tools offers a range of options to cater to different needs, including agencies, individuals, and those on a tight budget.
Ultimately, your choice will depend on your experience, budget, and specific requirements.
No matter which tool you select, investing in a dependable SERP tracking solution is a vital step toward achieving online success and staying ahead in today's competitive digital landscape.
If you find the post helpful, consider sharing the post on your social media and make my countless hours more meaningful.
Disclaimer: Some of the links in this post are affiliate links, which means I may earn a commission if you click on the link and make a purchase. TIA if you decide to purchase through me 🙂
Ali is a passionate and experienced blogger with a mission to teach others how to start their own blog, monetize it, and become successful in the process. He shares the lessons he's learned on his own journey through personal anecdotes and factual examples.