12+ Best DIY SEO Software For Beginners & Pros (2023)
You don't need to shell out your hard-earned bucks to someone else to do SEO for you.
I've got a list of the best DIY SEO software and tools to share with you. No need to worry about those pricey SEO agencies gobbling up your cash!
Here are my top picks:
Wondering where the best place to hide a dead body is?
Well, according to the age-old joke, it's on Page 2 of Google! It may be a cliché, but there's some truth to it.
HubSpot reports a whopping 75% of searchers never venture beyond the first page of Google.
And, according to First Page Sage, the #1 result on Google has an impressive click-through rate of 39.8%, while for #3, it drops down to 10.2%.
With these eye-opening statistics, it's pretty clear that you can't expect much traffic if your website is languishing on page 2 or even lower than the fifth spot (on page 1).
So, what's the solution?
Well, you're in luck. In this article, I'm about to give you a rundown of the best DIY SEO tools and software in 2023.
So, let's not waste any more time and dive right into it!
What is DIY SEO?
DIY (Do It Yourself) SEO is done without paying someone else (like an SEO pro) to do it.
Yes, that's right!
You can take matters into your own hands without needing to hire costly SEO agencies to do:
DIY SEO: 13 Best Do It Yourself SEO Software
| DIY SEO Software | Free Trial | Starting Price/ month | Category |
| --- | --- | --- | --- |
| SEMrush | ✅ 14 days | $129.95 | All-purpose |
| Google PageSpeed Insights | ✅ | FREE FOREVER | Website performance |
| Ahrefs Webmasters Tools | ❌ | FREE FOREVER | Technical SEO and keyword tracking |
| Ahrefs Keyword Generator | ❌ | FREE FOREVER | Keyword research |
| Surfer SEO | ❌ | $89 | On-page optimization |
| Jasper AI | ✅ 7 days | $49.95 | AI content creation and optimization |
| SE Ranking | ✅ 14 days | $39 | Keyword rank tracking |
| Mangools | ✅ 10 days | $49 | All-purpose |
| Google Search Console | ✅ | FREE FOREVER | Website search performance |
| Screaming Frog | ✅ Free plan | $259 | Technical SEO |
| Rank Math SEO | ❌ | $5.75 (billed annually) | On-page optimization |
| Serpstat | ✅ 7 days | $59 | Keyword research and competitor analysis |
1. SEMrush
SEMrush is an all-in-one SEO toolkit.
It can help you find the right keywords to target, spy on your competitors, build and check your backlinks, do technical SEO audits, and even help in on-page SEO for your content.
What's more, SEMrush can also be used to keep an eye on your competitors. You can snoop around and discover their top-performing pages, take a peek at their backlinks, check out their content strategy, and even see which keywords are giving them a boost.
It's user-friendly, packed with useful features, and can really give your website that extra edge.
Key features
1. Keyword Research: Discover keywords that are a breeze to rank for. Uncover not only their search volume but also their search intent, and get insights into the number of backlinks required to secure a spot in the top 10 rankings for each keyword.
Just plug in your seed keyword in the Keyword Magic Tool, and find a list of all the related keywords with metrics.
2. Advertising Research: You can also run better ad campaigns by knowing about your competitor's ad budget.
3. Traffic Analytics: The Domain Overview feature shows you the SEO performance metrics of a website such as monthly organic traffic, number of keywords ranking, etc.
Just scroll down a bit and you'll find all the organic keywords that a website is ranking for.
4. Site-Audit: It also includes technical SEO features like a full site audit, which assesses your site's technical health, including over 140 issues such as broken links, images without alt text, and missing meta descriptions.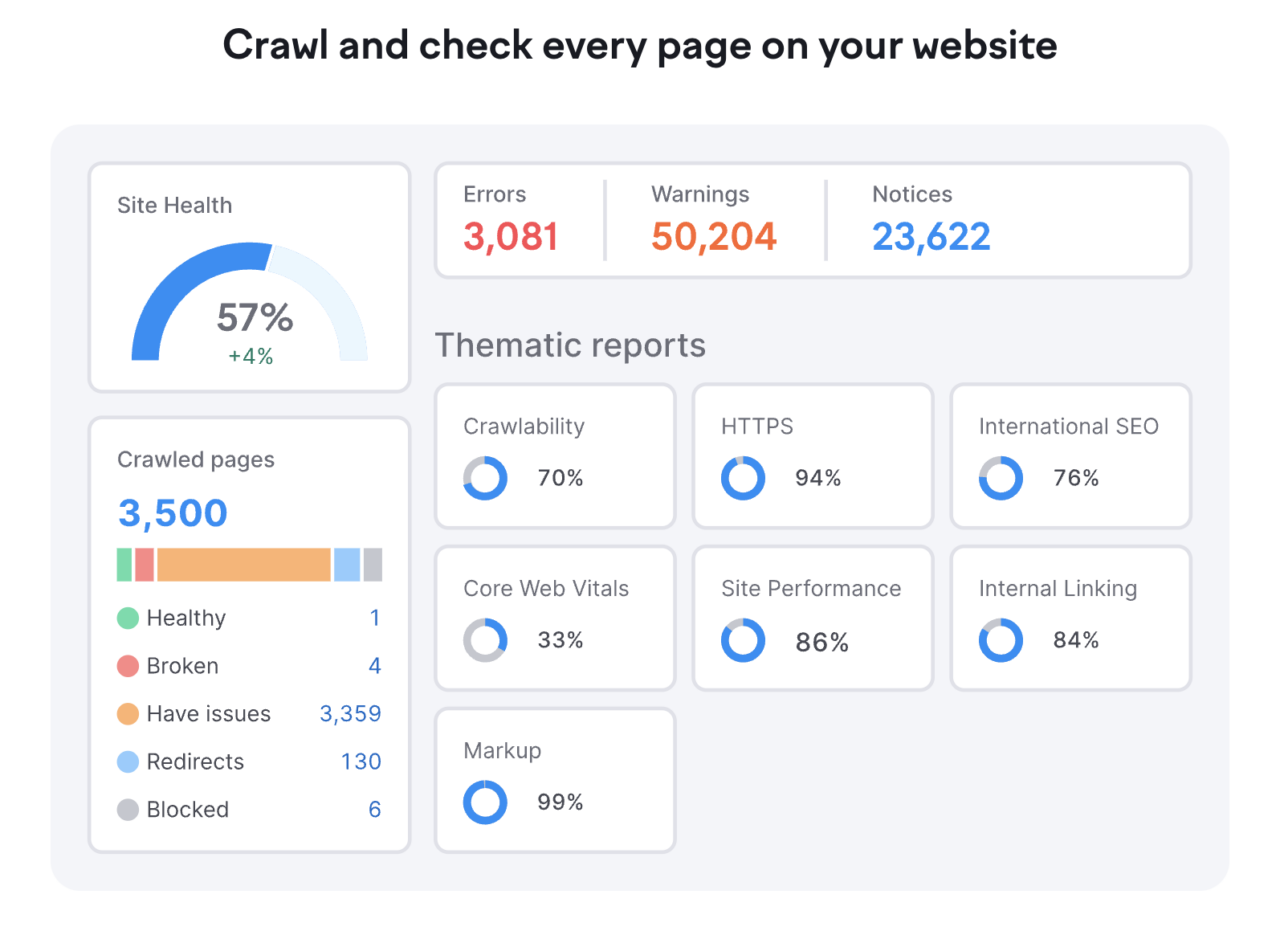 5. Keyword Gap Tool: It is a wonderful feature that lets you find out the keywords that your competitors are ranking for but you are not.
Just enter your own domain and up to 3 competitors you want to compare to.
You'll get a list of keywords that your website lacks but that your competitors have already covered.
You can also identify your underperforming keywords, indicating those with fewer impressions compared to your competition.
6. Backlink Analytics: Check the backlink profile of your site – number of backlinks and referring domains, lost and new backlinks, do-follow and no-follow backlinks the authority score of your site, etc.
7. On-Page SEO Checker: Though not its specialty, it also checks your content's on-page SEO performance by comparing it to the pages ranking in the top 10 for your target keyword.
With this feature, you get a list of blog posts on your site that could be further optimized.
Upon expanding optimization ideas, you'll receive a checklist to guide you through the optimization process.
The checklist includes:
Any semantically related keywords your page is missing
Any traces of keyword stuffing
Important backlinks that you should be getting to the page (because your competition has)
And other things like SERP features optimization, content readability, etc.
All of these along with the difficulty level of achieving these optimizations.
Pricing
SEMrush offers three pricing plans:
Pro plan (for newbies and small teams): $119.95 per month
Guru plan (for agencies and mid-sized businesses): $229.95 per month
Business (for large agencies and enterprises): $449.95 per month
A custom plan is also available
Save up to 17% by paying annually.
SEMrush also offers a 14-day free trial!
2. Google PageSpeed Insights
As you might already know, the loading time of your web pages directly affects your search rankings.
In that case, you want to make sure that your website loads faster. And there's no better tool than Google PageSpeed Insights to measure your website speed and suggest any actions required to enhance its performance.
Just pop in your website URL and it will generate a score on a scale of 100. You should aim for at least 90. Know that it is difficult to maintain a score of 100, so do not obsess over getting a 100 every time.
You can check the score separately for desktop and mobile devices.
What makes it a good DIY SEO tool is its ability to suggest specific actions you could take to improve your score.
3. Ahrefs Webmasters Tools
Ahrefs Webmasters Tools is a free-to-use toolkit offered by Ahrefs, mainly used for SEO audit and reporting. The tool helps you scan over 140 issues that could hurt your search rankings along with advice on fixing those issues.
I personally use it to take care of my site's health.
As its website says, Ahrefs claims to fill the gaps of Google Search Console.
Key features
Technical issues: It scans your website for over 140 SEO issues that could hurt your search rankings like broken links, duplicate content, missing meta tags, orphan pages, etc.
Backlinks data: Checks your backlink activity – referring domains, new and lost backlinks. It also generates comprehensive reports for the same.
Keywords tracking: Tracks the keywords you rank for and compares your website against your competitors.
Pricing
The Ahrefs Webmasters Tools is completely free to use. You can perform up to 5,000 crawls per month for FREE.
4. Ahrefs' Free Keyword Generator
As a beginner, Ahrefs keyword generator used to be my favorite tool for finding new keyword opportunities for my blog. Ahrefs gets really generous with a couple of free tools for beginners.
Just plug in your seed keyword and get access to phrases (keywords) matching it along with their monthly search volumes and ranking difficulty.
You can also find long-tail keywords related to your seed keyword. Just switch to the "Questions" tab and there you go.
Note that this tool is free to use, so it will generate limited keywords with limited metrics. In order to get a long list of keywords with additional metrics and data, you need to sign up for the Ahrefs premium plan which starts at $99/mo.
For a beginner, a small list will generally work fine. You can see in the pictures above – a lot of low-difficulty keywords related to "best soccer ball".
Pricing
Completely FREE to use.
5. Surfer SEO
Surfer undeniably stands out as the ultimate content optimization tool to ascend the Google rankings.
It has a super easy-to-use content editor that allows you to write and edit content right within the platform. It guarantees the optimal keyword density and generously sprinkles in all the semantic (related) keywords you need to secure a spot in the top 10.
What makes Surfer special is that it uses data from the top 10 rankings.
Just plug in your target keyword and select a minimum of 5 (10 max) Google search results for that keyword.
On the basis of the selected results, Surfer then suggests:
Important keywords to include, and other optimizations.
Surfer also lets you do keyword research
With the Surfer Chrome extension at your disposal, you can easily discover search volume metrics, along with a comprehensive list of keywords along with search volume statistics.
It caters to both pros and newbies, making it a top choice among Surfer users!
You can effortlessly access over 5 valuable data points like search volume, CPC, overlap score, etc. right from within Google's Search Results Page.
Key features
On-Page Optimization: It guides you in writing the best keyword-rich articles to rank on Google and gives your content a score on a scale of 100
Outline Builder: The AI outline builder generates an SEO-optimized article outline based on the provided title and keywords, improving your speed of producing content.
Content Planner: The Content Planner offers an efficient way to strategize keyword mapping for your website.
Site Audit: The Audit feature takes care of your site's technical health.
Pricing
Lite: $29 per month for hobbyists
Essential: $89 per month for individuals and small teams
Advanced: $179 per month for experts and mid-sized teams
Max: $299 per month for agencies and big teams
Custom enterprise plan to fit your specific needs
Savings if you pay annually
6. Jasper AI
Jasper, a content creation platform, harnesses the power of AI to create top-notch content for marketing and sales teams.
With Jasper at your disposal, you gain access to an AI assistant specially trained to craft marketing copy that converts effectively, compose engaging video scripts, and write clever captions for Instagram.
What makes Jasper a DIY SEO software is its SurferSEO add-on that analyzes your content against your SERP competitors and optimizes it accordingly to match theirs (and even better).
In my experience, Jasper has proven to be a dependable platform that has withstood the test of time, and I am happy to have discovered it.
Key features
Write, edit, and format your copy with an easy-to-use document editor
Choose from 50+ plus content templates such as email, ad, blog post, social posts, etc.
SEO optimize your blog post based on SERP competitors' content through the SurferSEO add-on.
Jasper Art generates amazing art and images in seconds.
The Jasper Chrome extension lets you bring your AI assistant everywhere you work
Pricing
Creator: $49/mo where you get 1 user access and can access the SEO mode.
Teams: $125/mo with 3 users and an opinion to create custom templates for your content
Business: A custom plan tailored to suit your needs.
Pay annually and get a 20% instant discount.
7. SE Ranking
SE Ranking stands out as the ultimate all-in-one Google ranking software catering to agencies and businesses, much like SEMrush caters to independent content creators and bloggers.
Moreover, it offers a more budget-friendly alternative compared to SEMrush and Ahrefs. For those working with limited resources, SE Ranking provides essential features such as technical SEO audits, competitor analysis, and basic keyword research.
The SEO Management tool primarily focuses on tracking keyword rankings and monitoring backlinks, among other functions.
However, one drawback is its limited capacity to provide comprehensive metrics for keywords and the inability to filter keywords based on keyword difficulty.
Key features
Keyword Rank Tracking: It offers a valuable feature for monitoring keyword rankings on your website. In fact, SE Ranking's pricing plans are structured based on the number of keywords you wish to track.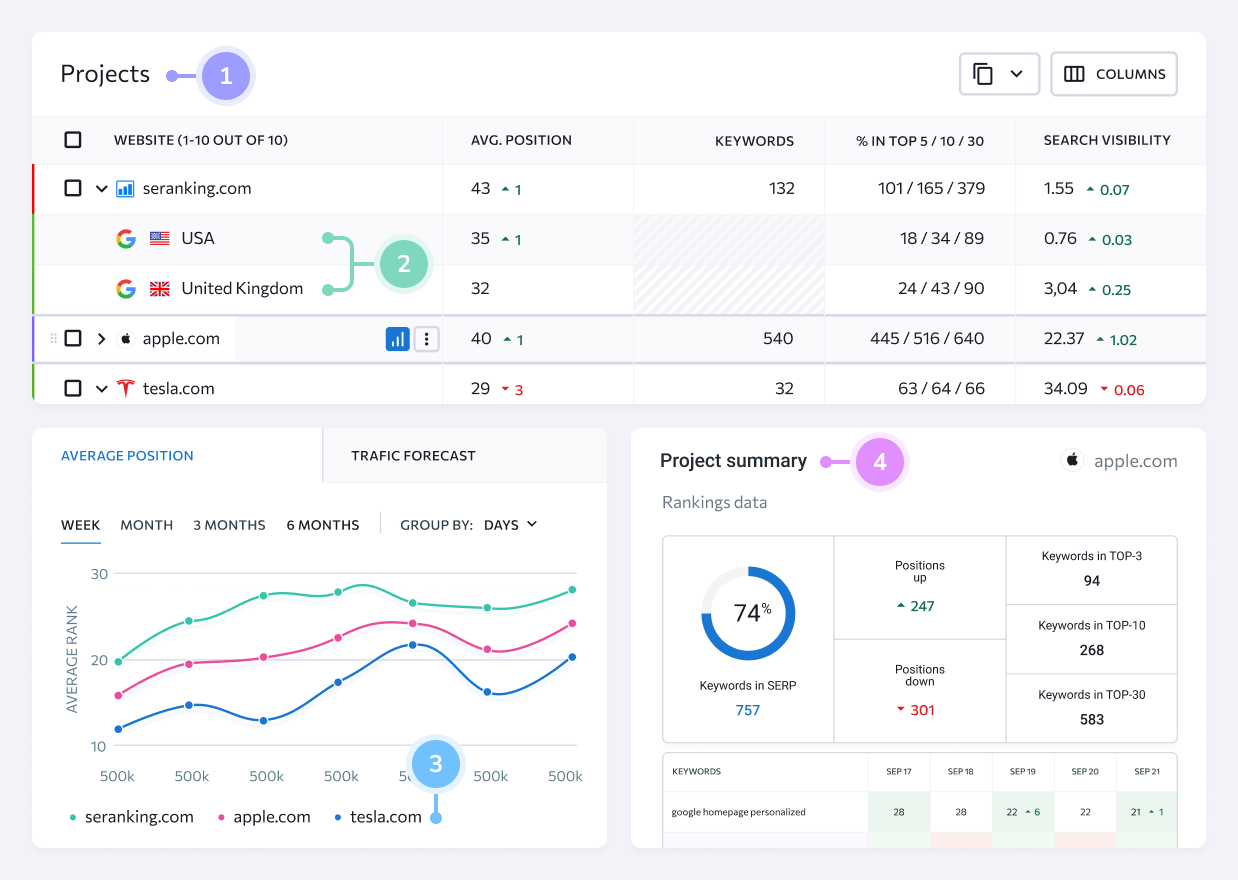 Backlink Monitoring: It continuously examines your website's backlink activity, identifying new backlinks you've gained and alerting you to any lost or damaged backlinks that require attention.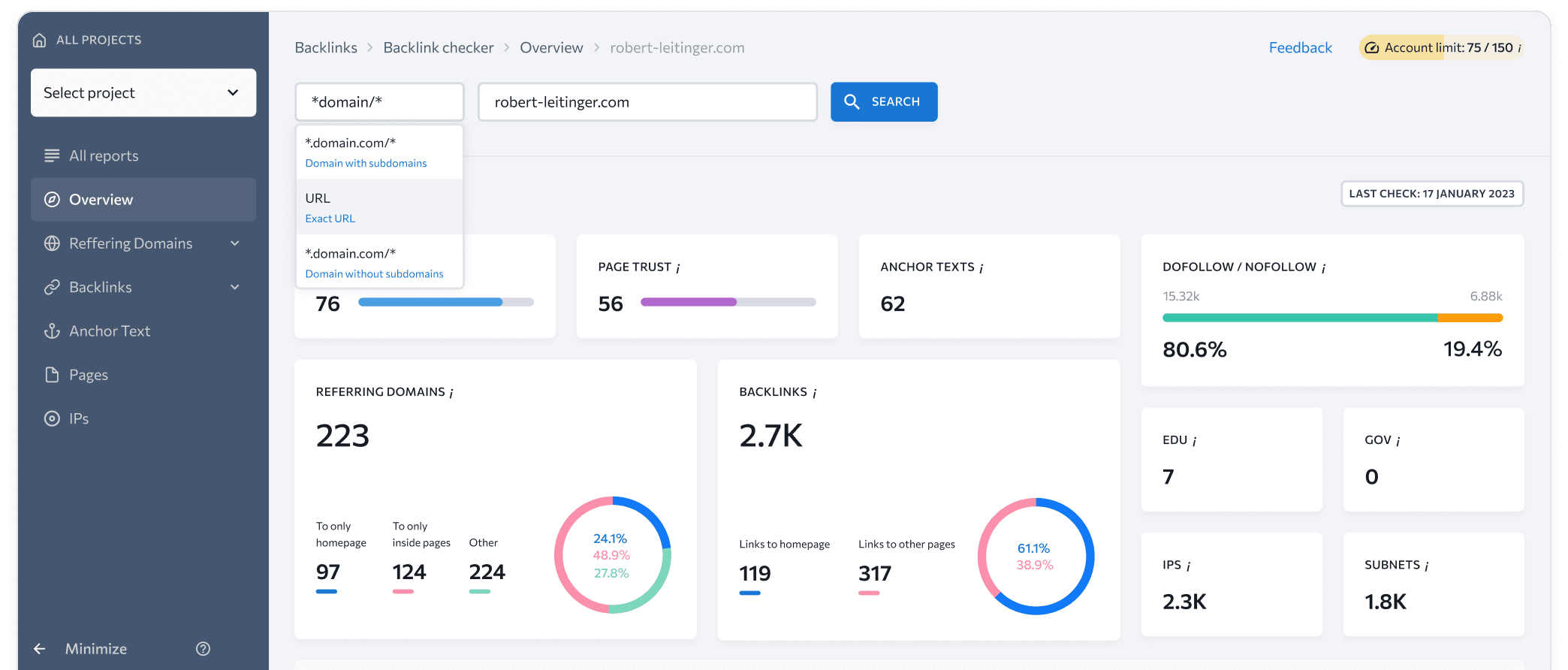 White Labeling: It offers unique white labeling, enabling you to personalize your reports with your own brand name and logo.
Integrations: SE Ranking allows you to seamlessly integrate your Google Analytics and Google Search Console accounts, providing you with valuable data and insights directly within the dashboard.
Pricing
Save 20% with annual plans
It also offers a 14-day free trial
8. Mangools
If you're on the lookout for a comprehensive SEO tool that won't strain your budget, Mangools should definitely be on your radar.
What sets it apart is its incredibly easy interface, designed to make your SEO efforts a breeze.
Unlike some other tools that throw in a bunch of features you might never even touch, Mangools keeps things clean and straightforward.
Its core features help you with keyword research, rank tracking, backlink tracking, and SERP analysis.
Here's what Brian Dean of Backlinko has to say for Mangools.
Key features
KWfinder: Find easy-to-rank long tail keywords that have correct search volumes and highly intuitive keyword difficulties.
SERPChecker: Find the SEO authority of the ranking websites, and their strong and weak points. Check whether you included their keywords in your content.
Rich Snippets Impact: Calculate the impact of rich snippets such as featured snippets, answer boxes, and carousels to estimate your chances of organic results engagement.
SERPWatcher: Track your keyword rankings over time.
Link Miner: Discover your competitors' backlinks to find backlink opportunities for your website.
SiteProfiler: Discover a website's SEO authority, assess the strength of its backlink portfolio, uncover fresh competitors and comparable sites, pinpoint high-traffic generating content, and more.
Pricing
Save up to 35% with annual plans
48-hour money-back guarantee
10-day free trial available
9. Google Search Console
Google Search Console is a goldmine of valuable insights for boosting your site's Google rankings.
Within this tool, you can access a wealth of information, including the keywords your website currently ranks for, their average positions in the SERPs, and the number of impressions they receive.
GSC offers an excellent method for discovering keywords to enhance your content strategy.
Here's how:
Go to Google Search Console and go to the Performance tab. Select only the Impressions and Total clicks views.
Now, take a quick scroll down and check out all the keywords (queries) your website is ranking and getting impressions and clicks for in the search results.
In the image above, you'll notice a breakdown of the keywords (blurred) for which I'm receiving impressions. What you should be looking for are keywords that have a high number of impressions but only a few clicks.
Your website is not ranking high enough for those keywords, resulting in fewer clicks. Bingo! That's where the opportunity lies. Take that keyword and craft an SEO-optimized article around it.
In my case, the keyword with 550 impressions but no clicks stands out (as shown in the image above). If I can manage to secure a spot on the first page of search results for that keyword, I can attract a substantial amount of organic traffic to my website.
And the best part? Google Search Console is free to use!
10. Screaming Frog
Screaming Frog is a widely acclaimed SEO crawler designed to enhance your search engine rankings.
This powerful tool conducts an in-depth examination of your website, meticulously scanning for various issues such as broken links, JavaScript glitches, HTTP and HTML errors, absent tags, duplicate content, and more.
It firmly holds its position as one of the most exhaustive website auditing tools accessible online, guaranteeing that it leaves no issue unexamined, regardless of its complexity.
Key features
XML Sitemaps: Easily generate XML sitemaps that are ready for submission to Google Search Console, making your content discoverable.
Duplicate Content Check: Google hates duplicate content? No worries! Screaming Frog ensures your website is free of identical content, URLs, and other exact duplicates.
Missing Tags: Screaming Frog doesn't miss a beat when it comes to spotting missing tags like meta descriptions, image alt tags, and header tags – they won't slip through the cracks.
Audit Redirects: Uncover temporary and permanent redirects, track down redirect chains and loops, or streamline your site migration by uploading a list of URLs for a comprehensive audit.
Audit Schedule: Take advantage of the scheduling feature to set audit frequencies. This way, you'll automatically receive fresh reports and essential metrics about your website, along with all the necessary improvements.
Pricing
Free version if you need to crawl up to 500 URLs
Paid version: $259 per year if you want to crawl more than 500 URLs
11. Rank Math SEO
If you're using WordPress, then Rank Math is one of the most important plugins you must have.
It is a powerful and popular WordPress plugin that is designed to help website owners and bloggers optimize their content for search engines.
It helps you with on-page analysis, keyword optimization, generating XML sitemaps, schema markup, etc.
Key features
It provides real-time on-page SEO analysis for your content. It offers suggestions and recommendations to improve your content's SEO, such as optimizing title tags, meta descriptions, headings, and keyword usage.
It suggests an optimum keyword density for your content.
Rank Math features schema markup support, improving content comprehension by search engines and enhancing rich snippets in search results for a more engaging user experience.
It generates XML sitemaps automatically, making it easier for search engines to crawl and index your website.
Keyword tracking: Easily track the keywords your site ranks for.
The plugin keeps track of 404 error pages on your site and allows you to redirect them easily to relevant content preventing SEO issues.
Rank Math's Content AI
Content AI is an advanced feature of Rank Math.
This feature integrates seamlessly into your WordPress Editor, providing advanced keywords, questions, and link suggestions for SEO-friendly content creation.
It also gives a score to your content.
You can access 40+ AI tools instantly without the need for a separate plugin.
Subscribe to a Content AI plan through Rank Math SEO and start optimizing your content today!
What I don't like about Rank Math
I really don't like the keyword density optimization of Rank Math. If you strictly adhere to the keyword density it recommends, you'll often end up stuffing keywords all through your content, which Google hates!
I think they really need to update the tool in terms of its keyword density feature.
Pricing
All plans are billed annually.
Pro: $5.75/mo with unlimited personal websites (for Individuals and bloggers)
Business: $19.08/mo with 100 client websites (for freelancers and agencies)
Agency: $45.75/mo with 500 client websites (for huge agencies)
30-day moneyback guarantee
12. Serpstat
Serpstat has come a long way since its beginnings. At first, it was just a keyword research software, but guess what?
It's now a super versatile "growth hacking tool" that offers a whole bunch of cool features.
So, in addition to helping you find those perfect keywords, Serpstat also comes to the rescue when you need help with link building, technical SEO stuff, PPC, and a whole lot more.
It's highly recommended for businesses and marketers looking to boost their search rankings and supercharge their growth.
Key features
Tree View: This feature of Serpstat helps you identify those pages that are ranking on page 2 of Google and take them to the top. It's the simplest way to take your underperforming pages to the top.

Cluster Research: This feature helps you expand your pool of keywords. Just enter a seed keyword and you'll gain access to a list of search queries that are directly related to your keyword. This information can be leveraged to optimize your web pages for better rankings.
Connection Strength: This is a keyword metric that is a part of the Cluster Research tool that shows how many websites ranking in the top 20 for a given keyword are also ranking for all the related keywords.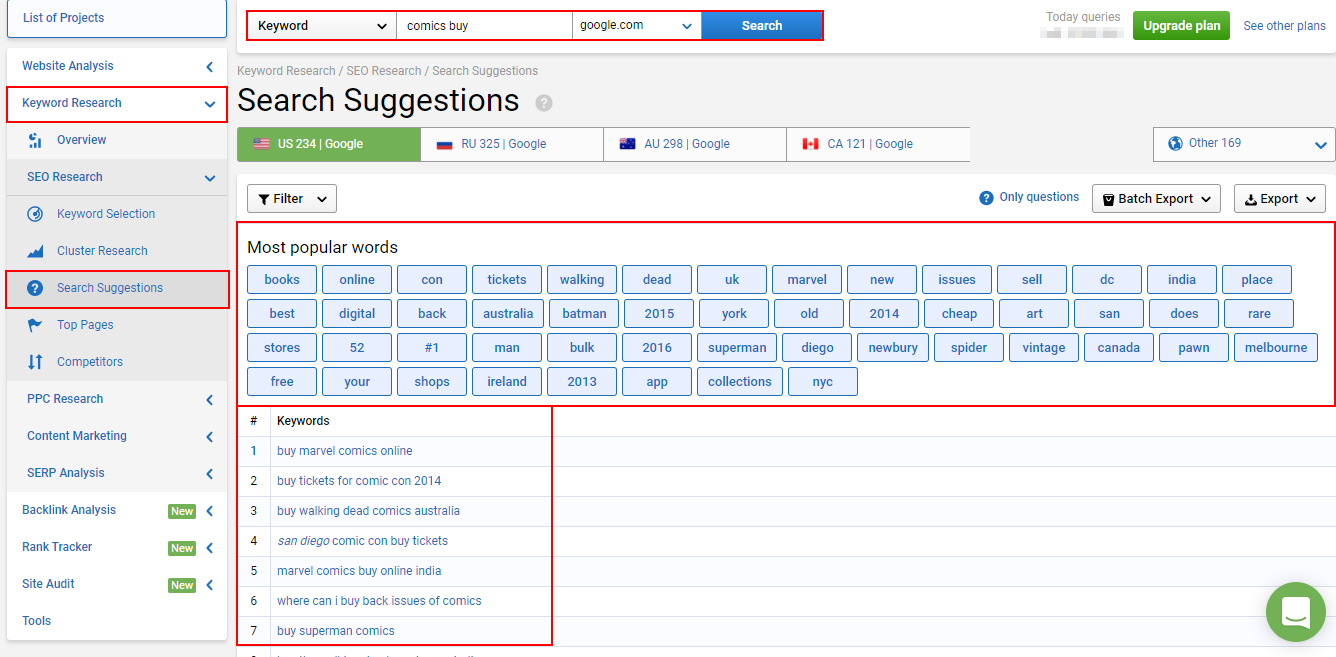 Pricing
Enterprise: $499 per month
Save 20% with annual plans
Conclusion
SEO doesn't need to be outsourced if you have the SEO skills to go solo!
You just need to get your hands on the best DIY SEO software above.
The list contains tools for every purpose, whether it is keyword research, link building, competitor analysis, on-page optimization, website performance, or technical SEO.
It's got something for everyone.
Your requirements and budget will determine your choice of tool.
Plus, here are my top 2 personal picks that I highly recommend.
Make sure to add any other awesome tools you know about.
If you found this post helpful, consider sharing it with people you think might benefit from it.
FAQs
Can you do SEO on your own?

Yes, you can absolutely do SEO on your own. There's no need to hire expensive agencies or professionals.

With the right DIY SEO tools at your side, you can perform all the SEO activities such as keyword research, content optimization, technical SEO, etc.
Can you do SEO for free?

Yes, you can do SEO for free. There are a lot of SEO tools on the internet that are free to use – Ahrefs keyword generator, Ahrefs Webmasters Tools, Rank Math SEO, Google Search Console, Google PageSpeed Insights, Keyword Surfer, etc.
What is the best free SEO tool?

According to me, the best FREE SEO tool is the Ahrefs Free SEO Suite. It has everything a beginner needs to do SEO for free.

The tools include Backlink Checker, Website Authority Checker, Keyword Generator, Keyword Difficulty Checker, Broken Link Checker, YouTube And Amazon Keyword Tool along with a bunch of free AI writing tools such as paragraph generator, paraphrasing tool, outline generator, sentence rewrite tool, etc.

Ali is a passionate and experienced blogger with a mission to teach others how to start their own blog, monetize it, and become successful in the process. He shares the lessons he's learned on his own journey through personal anecdotes and factual examples.