Top 9 MailerLite Alternatives In 2023 (Free & Paid)
MailerLite is a fantastic email marketing software that boasts an impressive array of features, fulfilling all the expectations one might have from a top-notch email marketing solution.
Whether you're a seasoned marketer or just starting out, MailerLite equips you with everything you need to achieve remarkable results and engage your audience effectively.
The best thing about MailerLite is its FREE plan.
I love an email marketing service if it lets you do these 3 things for FREE:
1. Capture email addresses of your website visitors or build an email list through forms and popups
2. Lets you store at least 250 contacts or subscribers or leads
3. Lets you automate your emails
MailerLite offers all the 3 things for absolutely FREE!
So in this post, first I'll be reviewing the top MailerLite alternatives that offer the above 3 things for FREE and then some other advanced alternatives that aren't FREE but won't break your bank too.
Let's get started.
GetResponse
FREE plan available
Paid plans starting $13.24/mo
An all-in-one digital marketing solution that isn't expensive. You can also create webinars.
Email Octopus
FREE plan available
Paid plans starting $8/mo
Out of all the services, it is the easiest to use and a good fit for beginners.
Brevo
FREE plan available
Paid plans starting $25/mo
An awesome tool that is fit for a large email list. UNLIMITED contacts FREE for a lifetime.
Disclaimer: Some of the links in this post are affiliate links, which means I may earn a commission if you click on the link and make a purchase. TIA if you decide to purchase through me 🙂
5 best MailerLite alternatives that are FREE
The tools I'm about to mention won't cost you a dime, but keep in mind that their features might not be super advanced – basic level automation, etc.
Software
(free plan)
No. of Contacts
No. of emails
Automation
Paid plans
starting price
Omnisend
250
500/mo
✅
$16/mo
Email Octopus
2500
10,000/mo
✅
$8/mo
EngageBay
250
1,000/mo
✅
$11.95/mo
SendPulse
500
15,000/mo
✅
$6.40/mo
AWeber
500
3,000/mo
✅
$12.50/mo
1. Omnisend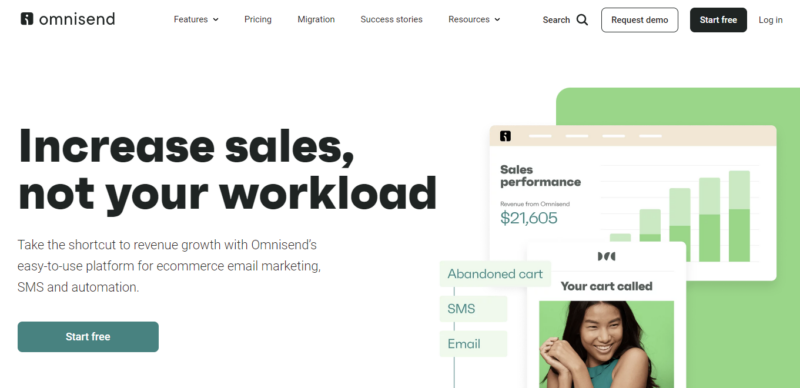 Omnisend is a robust email marketing solution that lets you create professional, personalized, and stunning email campaigns without any knowledge of coding.
It is ideal for growth-focused E-commerce businesses that want to increase their open rates and conversion rates.
Being more than just email, Omnisend also lets you run SMS and push notification campaigns. So you can drive more growth by combining email with other channels of marketing.
Key features
Build your email list with different kinds of popups such as multi-step forms, landing pages, gamified popups (wheel of fortune), teasers, etc.
Prebuilt workflows that let you automate your emails. You can send emails based on the actions of your customers – welcome email series, product and cart abandonment, order confirmation, shipping confirmation, etc.
A/B split testing lets you test which channel or subject line or time of email drives the most opens, clicks, and conversions
The Campaign Booster feature lets you send emails with a different subject line to everyone who didn't open it the first time
Pricing
You can enjoy all of Omnisend's features such as forms and popups, segmentation, reporting, automation, etc. with any plan but with certain limitations.
FREE plan: Lets you store up to 250 contacts or subscribers, send 500 emails per month, 24*7 email and live chat support
Standard plan: Starting at $16/mo. Store up to 500 contacts, send 6000 emails per month
Pro plan: Starting at $59/mo. Store up to 500 contacts and send unlimited emails, advanced reporting, etc.
The price increases with the number of contacts you want to store on your email list
2. Email Octopus
Email Octopus is an extremely easy-to-use MailerLite alternative.
What makes it stand out from others on the list is the ease of designing beautiful emails, the ease of creating automated workflows, and straightforward reporting that is easy to understand.
This makes it perfect for beginners who are just starting out on their email marketing endeavors. It is best suited for small website owners and bloggers.
Key features
Grow your audience by importing existing subscribers or through customizable forms and landing pages
Build beautiful emails with pre-designed editable templates. You can also build from scratch or import HTML templates for full control
Automate emails to take your new subscribers on a journey to educate them about your product or service or most valuable content
Straightforward reporting to keep track of your clicks, opens, and conversions.
Integrate with your favorite platforms such as Shopify, WordPress, OptinMonster, Calendly, etc. for more flexibility.
Pricing
The pricing plans are cheaper than MailerLite.
The FREE plan allows 2500 subscribers, 10000 emails/mo, up to 3 landing pages and forms, and 1 user access.
For full control over your email design, unlimited landing pages and forms, and unlimited user access, opt for the Pro plan starting at $8/mo for 500 subscribers or contacts.
The prices rise based on how many contacts you want to store.
3. Engagebay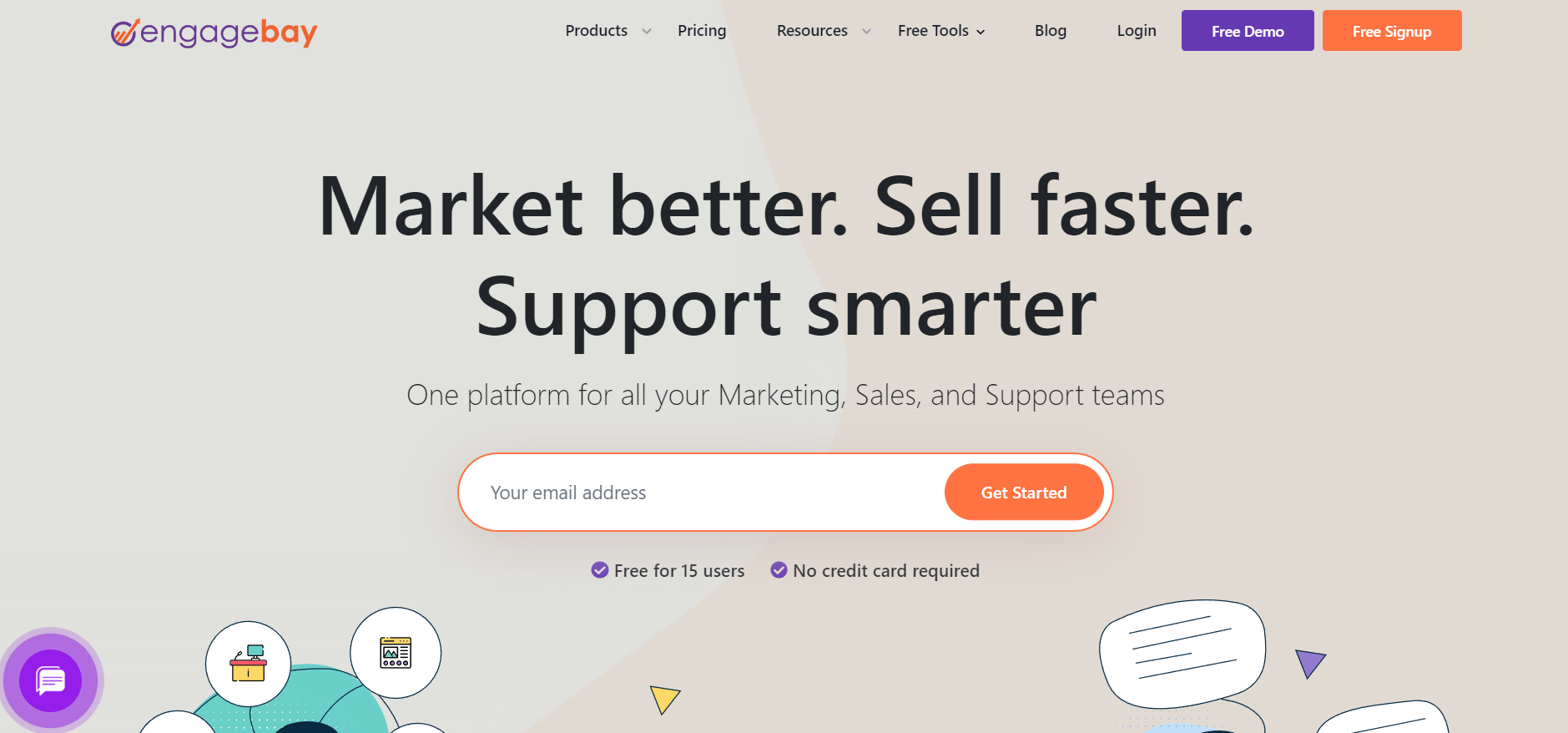 EngageBay software is the ultimate game-changer for small business owners, tackling email marketing, marketing automation, sales, CRM, customer service, appointment scheduling, live chat, and much more all in one go.
It's like having a super versatile teammate on your side. And the best part? It won't break the bank like other similar tools out there.
Think of EngageBay as your all-in-one marketing toolkit that covers all the bases. But here's the cool part: if you prefer to focus on just one area (say, CRM or marketing), you can purchase that specific module separately.
EngageBay is recommended as one of the best affordable CRM by brands like HubSpot, Freelancer, Zapier, Forbes, and others.
Key features
Web forms and landing pages: Place forms across your website or design landing pages for grabbing leads
Automate all your marketing and sales tasks, customer service workflows, lead generation and nurturing.
Appointment scheduling software
Pricing
You could either get the all-in-one stack or just the features you need.
As we are interested in MailerLite alternatives, let's focus on the marketing module pricing.
The FREE plan lets you capture and store 250 contacts and a lot of other features such as lead grabbers, email broadcasts, autoresponders, landing pages, etc.
Basic plan costs $11.95/mo (billed annually) for 500 contacts
Growth plan costs $45.99/mo for 3000 contacts
Pro plan costs $73.59/mo for 30,000 contacts
4. SendPulse
Just like EngageBay, SendPulse is also an all-in-one marketing platform that lets you build your email list, send emails, design CRM flows, send SMS campaigns and web-push notifications.
The highlight is that SendPulse also lets you create your own online courses, conduct tests, and issue certificates.
Other key features
CRM: Store customer information, design specialized sales pipelines, connect with your customers directly from your database, etc.
Email verifier: Verify the email addresses on your email list to improve deliverability rates.
Online course creator: Create online courses and training programs with your experience and sell them and award certifications of completion.
Chatbots: Choose from a variety of chatbots – WhatsApp chatbot, Viber chatbot, Instagram chatbot, etc.
Interact with your customers on their favorite communication channels (WhatsApp, Messenger, Telegram, etc.) all from one platform.
Pricing
The pricing plans are cheaper than MailerLite and any other FREE service on the list.
The FREE plan allows up to 500 contacts, 15000 emails per month, and up to 5 flows or automations.
For other advanced features, there is a standard plan ($6.40/mo), a Pro plan ($7.68/mo), and an Enterprise plan ($10.75/mo).
Prices increase based on the number of subscribers or contacts you want to store.
5. AWeber
Aweber is a seasoned player in the email marketing software industry and they've got you covered whether you're a content creator, blogger, or a small or medium enterprise.
The best part? You don't need to be a tech whiz to use it. Aweber makes it super easy to create attractive landing pages, handle your contacts like a pro, send eye-catching emails, and even send instant push notifications.
Some people might find the customization options a bit limited, which can be a little frustrating. But if the pricing fits your budget, it's still a good choice.
Key features
AI Writing Assistant helps you write better emails that convert more.
Smart designer that lets you create email templates based on your website URL or Facebook page.
Autoresponder to welcome new subscribers.
Auto newsletter feature lets you send automated emails to your subscribers so they never miss your newest videos, blog posts, or other content.
Segment subscribers based on their recent activity and send targeted emails.
Get world-class email deliverability.
Integrate with other platforms such as WordPress, PayPal, Leadpages, etc.
Pricing
FREE plan: Up to 500 contacts, 1 email list, 1 email automation or workflow
Lite plan: Starting $12.50 – Unlimited contacts, 1 email list, 3 email automations
Plus plan: Starting $20 – Unlimited contacts, unlimited email lists and automations, and other advanced features
Advanced MailerLite alternatives that aren't free
the tools mentioned above come with free services but let's be real, they're pretty basic when it comes to features. So, if you're ready to kick it up a notch and get your hands on some advanced automations and other fancy features, the tools below are for you.
The following MailerLite alternatives offer free plans but don't give the 3 core functionalities for free. Don't worry, their pricing won't break the bank.
1. Brevo (formerly Sendinblue)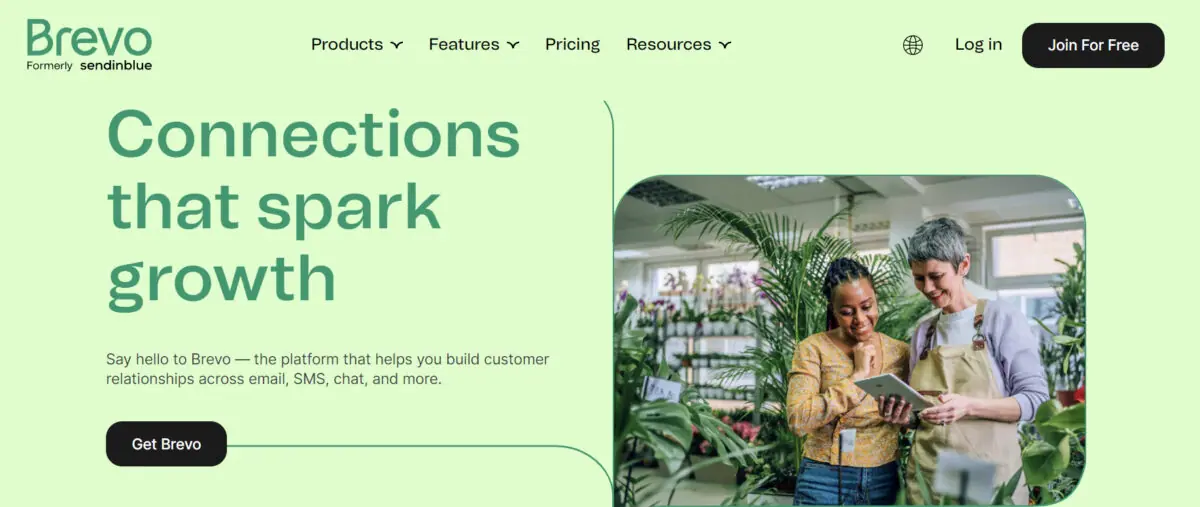 You must have heard of the name Sendinblue if you are into email marketing.
After a decade of operation, Sendinblue renamed itself Brevo in May 2023.
Majorly an email marketing software that lets you capture leads, build your email list, and send email campaigns to your email list subscribers, Brevo is more than email
There is a tonne of other functionalities it offers such as SMS marketing, WhatsApp marketing campaigns, CRM and sales, landing page builder, chatbot features for interacting with customers, etc.
The best thing about Brevo is that its FREE plan lets you store an UNLIMITED number of contacts and send 300 emails per day.
No other email marketing software on the list lets you store UNLIMITED contacts for FREE.
Pricing
As I said, the FREE plan stores unlimited contacts. But, for automation, you need to purchase the paid plans.
Starter plan costs $25/mo.
For A/B testing and automation, you need to opt for the Business plan that costs $65/mo.
A bit pricier but has unlimited contacts with all the plans, so choose accordingly.
Related: Brevo Affiliate Program Review 2023
2. GetResponse
Before switching to MailerLite, I was using GetResponse.
Why did I switch?
Simply because GetResponse did not provide automation features with the free plan.
But, that doesn't mean GetResponse is a bad choice for email marketers.
GetResponse is a complete digital marketing solution that has got the stamp of approval from thousands of marketers around the globe.
GetResponse features
Email marketing
Autoresponder
AI email generator
Create and manage webinars
SMS marketing
Conversion funnels
Live chat
E-commerce integrations
Web push notifications and much more
100+ integrations like Shopify, Kiss Metrics, Google Ads, OptinMonster, Outgrow, etc.
Pricing
GetResponse has a highly competitive pricing structure.
It has a FREE plan with 500 subscribers, 2500 emails per month, 1 landing page, and website builder.
For unlimited emails and autoresponder, the Email Marketing plan costs $13.24/mo.
For marketing automation, webinars, and sales funnels, the Marketing Automation plan costs $41.12/mo.
And for everything plus e-commerce features, the E-commerce Marketing plan costs $82.94/mo.
All of the above prices are for 1000 contacts. Prices climb up with the number of contacts.
3. Constant Contact
Constant Contact has been in the email marketing industry since 1995 making it a tried and tested product. I have noticed that Constant Contact is very often the top choice of bloggers and affiliate marketers like me.
One thing I don't like about Constant Contact is that for the premium it charges, it doesn't offer the most advanced automation features.
Similar levels of automation are offered by much cheaper tools like MailerLite (for free) and Brevo.
Other notable features
Event marketing: From fundraisers to yoga classes, create, manage, and promote events.
Mobile app: It's mobile app lets you create and send emails, and even design posts for your social media.
Social media marketing: Reach new audiences and customers with social media marketing tools.
Integrations with e-commerce and other marketing platforms.
Reports: See valuable metrics related to your email marketing campaigns.
Pricing
Lite: Starting at $12/mo with basic email marketing features and auto welcome email
Standard: Starting at $35/mo with A/B testing, resending emails to non-openers, segmentation, and pre-built automation
Premium: Starting at $80/mo with advanced features such as custom automation, custom segmentation, SEO, etc.
4. Mailchimp

Having been in the industry for 22 years and with a global user base of 12 million+, Mailchimp is another seasoned email marketing service that is a good alternative to MailerLite.
To be honest, Mailchimp was the first email marketing service I had heard of.
Mailchimp is designed to make life easier for marketers across all types of businesses. It's got all the tools you need to create and send professional, captivating marketing emails.
Whether you're a tech guru or a newbie, its drag-and-drop editors, robust automations, and developer APIs are there to support you every step of the way.
It is the cheapest paid service on this list.
Other notable features
Mailchimp Generative AI: Based on loads of data, Mailchimp AI helps you write emails that convert better
Integrations: It offers 300+ integrations with the most commonly used marketing and e-commerce software, so you get everything under one roof
Design websites and landing pages.
Subject line helper to write compelling headlines
Pricing
You get the cheapest prices with Mailchimp. But, it doesn't offer automation with the free plan.
The FREE plan lets you send 1000 emails per month, store 500 contacts, and limited email templates, reports & landing pages.
The Essentials plan starts at $4.66/mo with 5000 emails, A/B testing, up to 4 automations, and email scheduling.
For unlimited users, up to 200 automations, content optimizer, and predictive segmentation, choose the Standard plan for $6.96/mo; and the Premium plan for $139.18/mo for 150,000 emails per month.
The prices are for 500 contacts and increase based on the number of contacts you want.
Conclusion
MailerLite is a beginner-friendly email marketing service that lets you perform the essential tasks of building an email list and sending emails (both manual and automated) for FREE.
If you are looking for some alternatives to MailerLite, then this post is for you. I have mentioned some other FREE services as well as some advanced paid services that aren't too expensive.
The best service for you is the one that meets your specific requirements, whether it's storing a large number of leads, competitive pricing, advanced features, or user-friendly experience.
This list has got something for everyone.
Plus, here are my 3 personal recommendations.
GetResponse
FREE plan available
Paid plans starting $13.24/mo
An all-in-one digital marketing solution that isn't expensive. You can also create webinars.
Email Octopus
FREE plan available
Paid plans starting $8/mo
Out of all the services, it is the easiest to use and a good fit for beginners.
Brevo
FREE plan available
Paid plans starting $25/mo
An awesome tool that is fit for a large email list. UNLIMITED contacts FREE for a lifetime.
Make sure to add any other awesome tools you know about.
If you found this post helpful, consider sharing it with friends and people you think might benefit from it.
Disclaimer: Some of the links in this post are affiliate links, which means I may earn a commission if you click on the link and make a purchase. TIA if you decide to purchase through me 🙂
Ali is a passionate and experienced blogger with a mission to teach others how to start their own blog, monetize it, and become successful in the process. He shares the lessons he's learned on his own journey through personal anecdotes and factual examples.